What is Minecraft Hosting?
Minecraft is an open-world sandbox game where players mine for ores, build shelters, and fight off mobs that approach during the night. Players are challenged to survive and explore the landscape of the game.
In Minecraft some of the things you can achieve include fighting the Ender dragon, along with going to the Nether. Along with Vanila Minecraft there is an array of mods and additional plugins you can add to enhance your experience with friends.
Minecraft Hosting at RocketNode allows you to take full control and empower your community with our amazing Minecraft hosting solutions. Minecraft is a constantly growing game and we are here to provide you with affordable, reliable, and efficient hosting solutions with the best support team in the industry.
What is Spigot?
Spigot is an open-source implementation of the Minecraft server software. It is one of the most popular server software options for Minecraft, used by millions of players worldwide.
Spigot is built on the Bukkit API, which is another custom version of Minecraft, providing plugins to allow Minecraft server customization. Spigot added more features on top of Bukkit, such as more optimization for better performance, which includes better memory management and multithreading.
One of the main reason Minecraft server owners use Spigot is for it's huge library of plugins, which are easily installable and customizable to add new in-game features, modify mechanics of your Minecraft server, and improve administration tools for your Minecraft server. Most of the plugins available for a Spigot Minecraft server are available on SpigotMC and BukkitDev.
View our Minecraft Hosting plans here.
Why should I host my Minecraft Server with RocketNode?
Our Minecraft Hosting here at RocketNode is the fastest and easiest way to instantly deploy a Minecraft server. We offer two different packages, Budget and Premium.
Our Budget Minecraft Hosting includes:
Plugin Manager One stop installation of the leading Plugins for your Minecraft server.
Version Manger Easiest way to reinstall your Minecraft server with a new Minecraft version.
Modpack Installer Quickest way to install trending modpacks for your Minecraft server.
DDOS Protection Easily detect and mitigate any attacks, and mitigate them seamlessly with our state-of-the-art protection.
SFTP Access Access and manage your Minecraft server's files through Secure File Transfer.
Resource Statistics View your Minecraft server's resource utilization to see your Minecraft server's performance.
Subuser Manager Add users to your Minecraft server to allow your team to help you manage your Minecraft server.
Unmetered Bandwidth No restrictions on your bandwidth usage.
Our Premium Minecraft Hosting includes:
4x Faster Storage Using state-of-the-art storage solutions, your server will run smoothly.
15TBPS DDOS Protection Easily detect and mitigate any attacks, and mitigate them seamlessly with our state-of-the-art protection.
99.99% Uptime Guarantee An uptime guarantee, meaning RocketNode strives to provide industry-leading solutions, and is happy to provide an uptime guarantee.
North America & Europe Unlike our Budger Tiers, all Premium Minecraft Hosting tiers are eligible for Europe hosting locations.
Scheduled Restarts With the ability to automatically schedule restarts, your Minecraft server will run smoothly, with less overall instability.
Unmetered Bandwidth No restrictions on your bandwidth usage.
One-Click Backups Easy one-click backups allow you to seamlessly restore to a backup of your Minecraft server's previous state.
Dedicated Support Advisor A Dedicated Support Advisor to help you beyond your capability to assist in the management of your Minecraft server.
Premium Industry-Leading Features
Our panel comes standard with three industry-leading features, which are considered premium features.
Plugin Installer -Our panel comes with an advanced Plugin Installer. Our Plugin Installer allows you to 1 click install a wide variety of Spigot and Bukkit plugins to enhance your Minecraft server experience.
Version Changer -With our Version Changer you can easily switch between Minecraft Versions, you can not only easily change your Minecraft server version, but also switch your server type from for example Vanilla, to Bukkit or Spigot.
Mod Manager -Make your Minecraft experience more enlightening with our Mod Manager. The Mod Installer makes installing these mods easier so you can enjoy your server faster and less stressful.
How to Install Spigot
Once you purchase a Minecraft server with RocketNode, installing Spigot for your Minecraft server on the RocketNode Panel is very simple, and takes only a few minutes.
Login to the RocketNode Panel.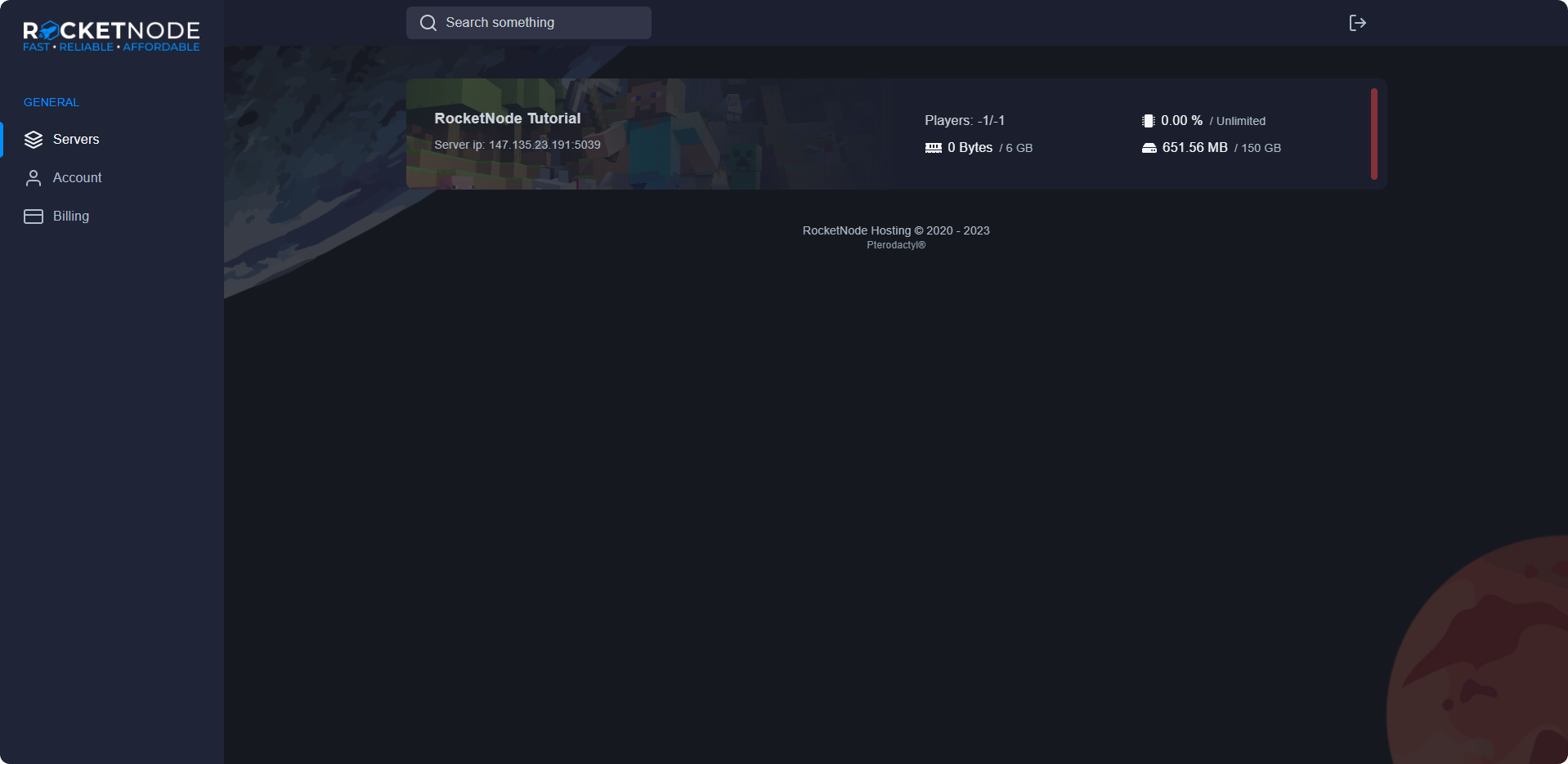 On the left side of the panel, under the Server Modification section, open the Version Changer tab.
In the Version Selector, select the Minecraft server version you want your Minecraft server to be based on, in this case, we will be selecting Spigot.
We recommend installing a newer version of Spigot for your Minecraft server, but the version choice is completely up to you and your use case. Once you decide on a version, select Install under that version.
The RocketNode Panel will ask you if you are sure you want to install this version of Spigot for your Minecraft server. Remember that this will wipe your Minecraft server's data, so please backup any files you may have on the RocketNode Panel. Click Install if your ready.

Your Minecraft server will begin installing your new Spigot version.
Open the Server Console in the RocketNode Panel.
Accept the Minecraft EULA and allow your Minecraft server to boot up and finalize the installation of Spigot.