Connecting your domain to your Minecraft Server through RocketNode's gaming hosting services enhances your brand's credibility, improves server accessibility, and fosters community engagement. By establishing a unique online identity, you can create a memorable and professional image while strengthening your online presence in the Minecraft gaming world.
Prerequisites
A Minecraft server from Rocketnode
A valid domain from any domain registrar (such as Namecheap, GoDaddy, Google Domains, etc.)
Purchase a Domain
Before diving into the technical aspects, you'll need to secure a domain for your Minecraft server. A domain is your unique online address, acting as a gateway for players to access your server. Numerous domain registrars offer a wide range of options at varying prices. Select a domain name that reflects your gaming community and resonates with your target audience.
DNS Management
For this guide, we'll be using Namecheap as reference, but it should be similar for any domain provider that you choose.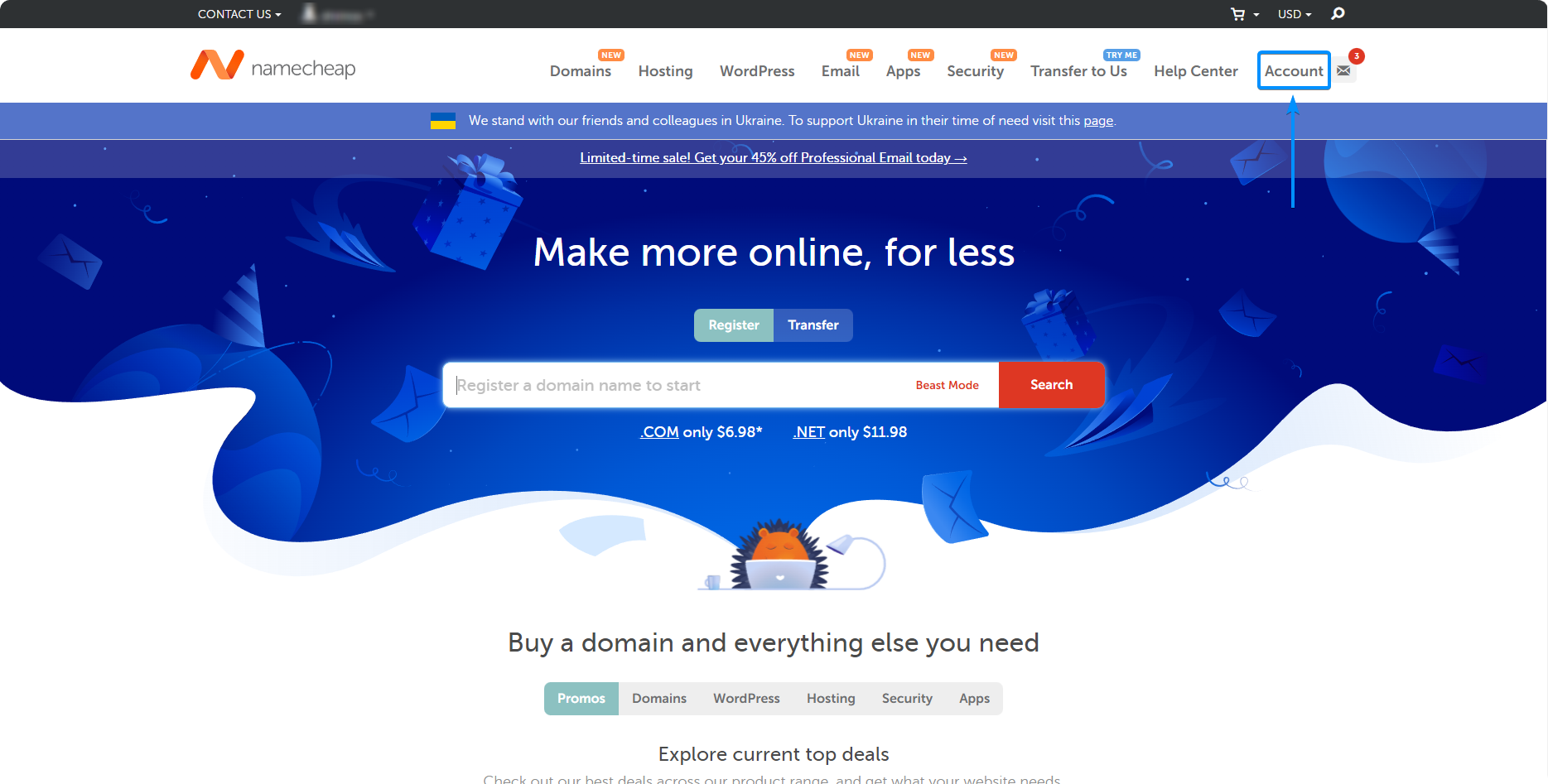 After you've created an account and bought a domain, head over to your Account dashboard.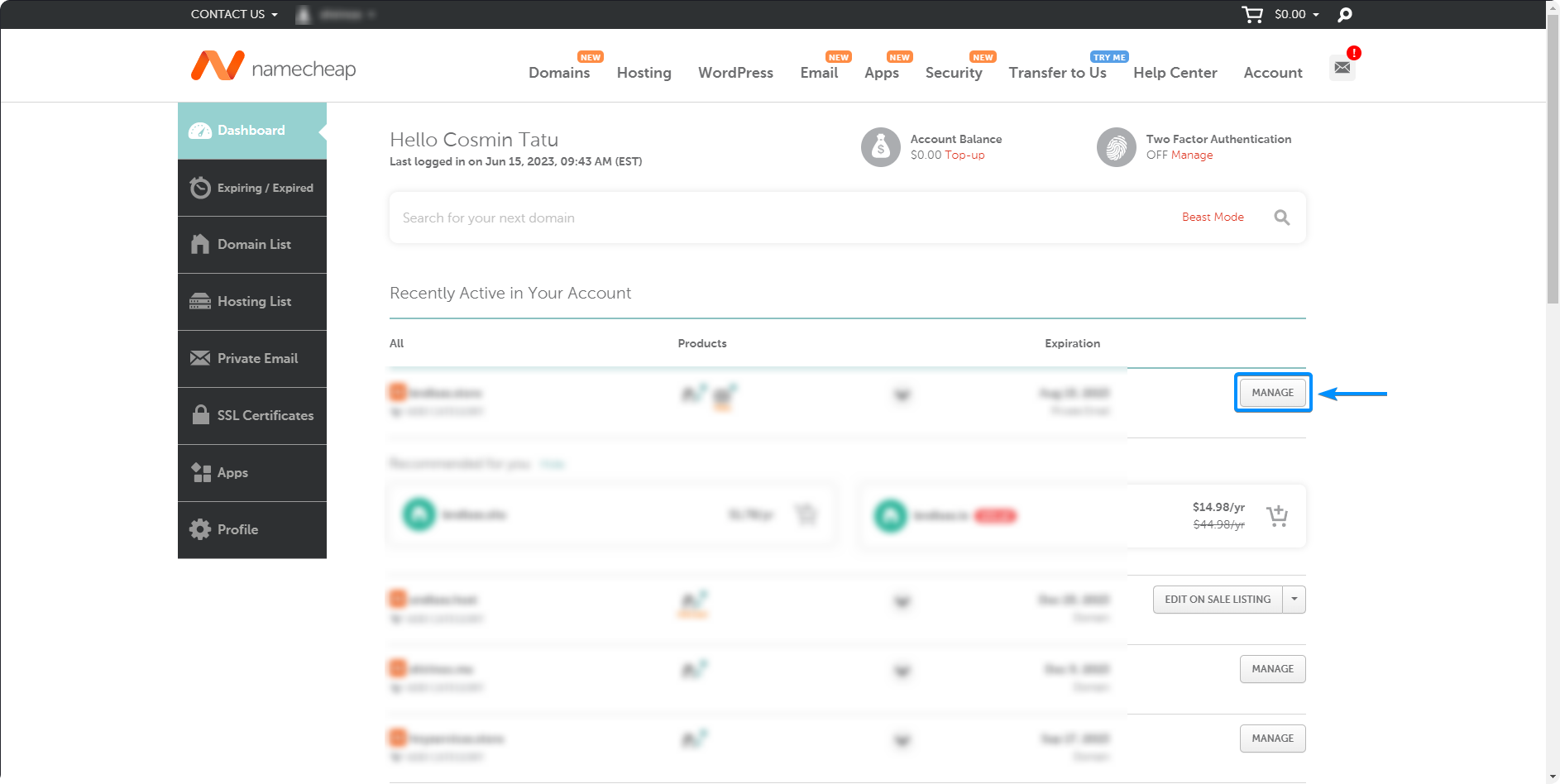 Upon clicking on the Manage button, you will be redirected to your own domain's DNS Management page.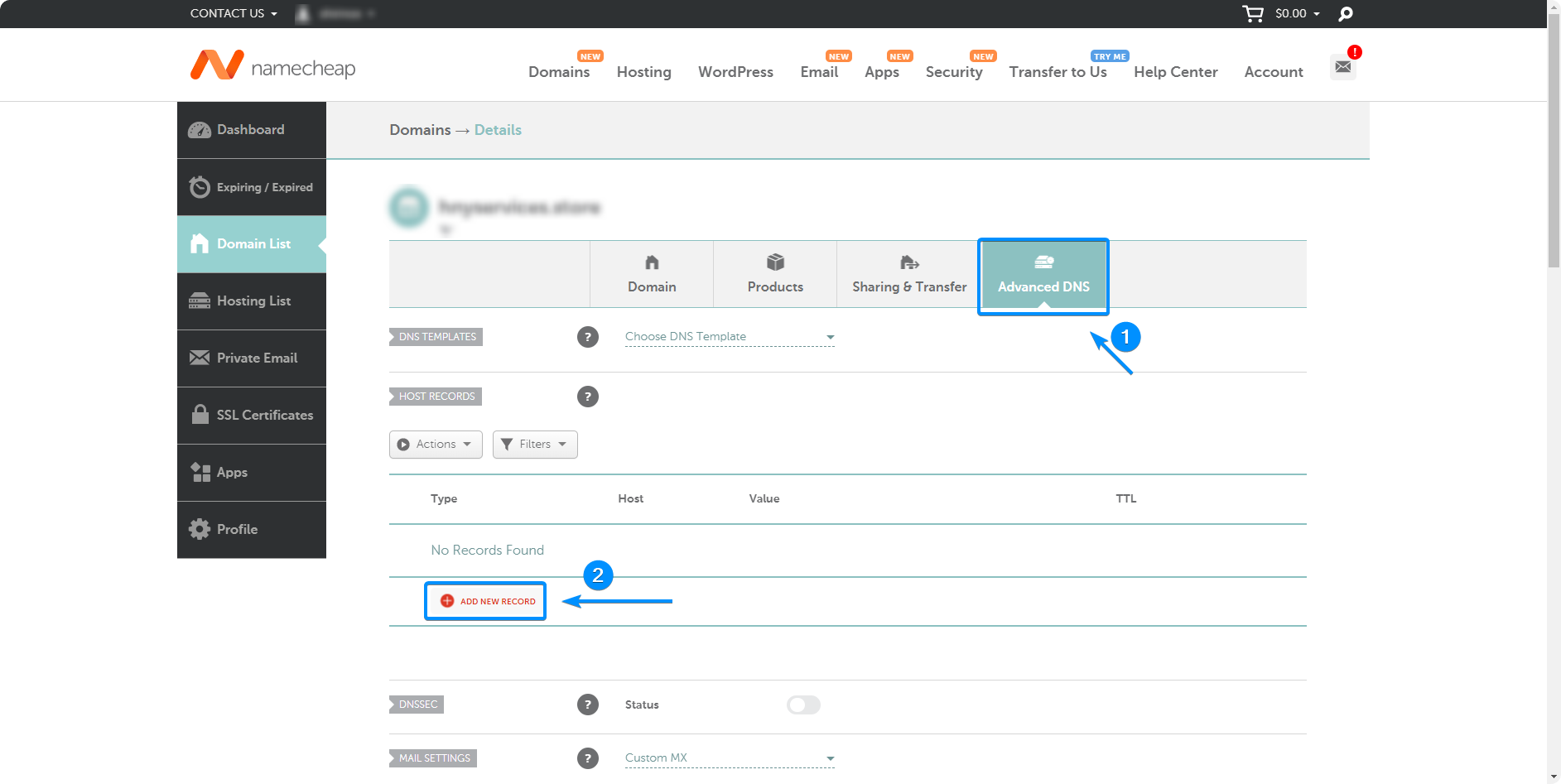 Adding Records
Once you've gotten over to your Advanced DNS settings, click on ADD NEW RECORD in order to start configuring your DNS to link over to your Minecraft server right away! Firstly, you will have to add an A type record as shown below.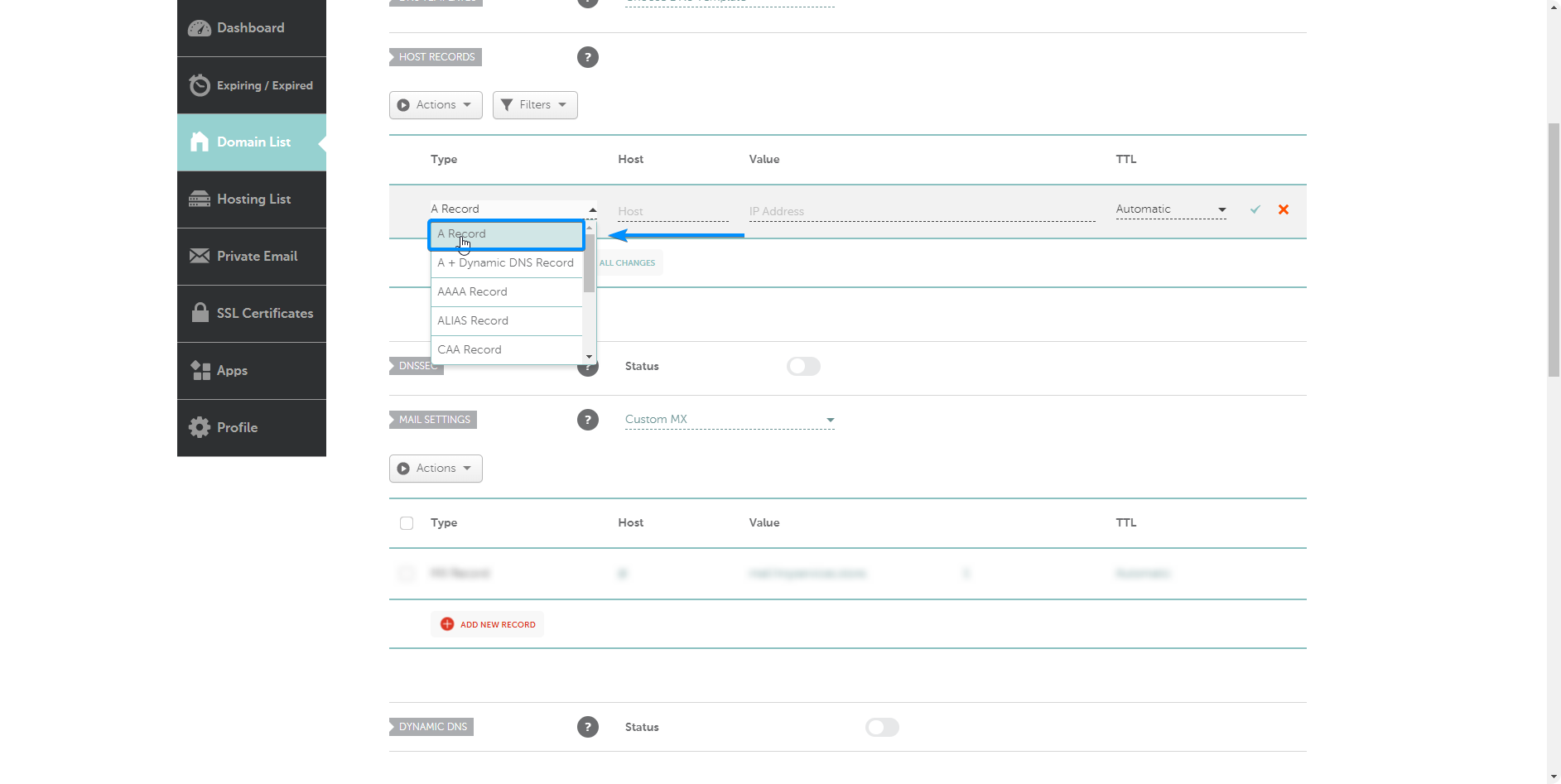 Once you've selected the correct type of record, you will have to fill in the following parameters with the values specified:
Host: This should be set to @ if you plan on using your domain as is. If you wish to set up a subdomain (e.g. play.yourdomain.com) you'll need to type play in this section.
Value: Set this to your Minecraft server's IP address (make sure you do NOT include the port inside this section).
TTL: This option shall be left untouched or set to half an hour if your domain's registrar requires it.

IMPORTANT: Make sure that you click the green tick on the right side to save your changes.
Additional Setup for a non-Dedicated Port (Optional)
If your server doesn't have a dedicated port in place by buying our Dedicated Port Addon, make sure that you follow the following steps to make sure your server will be joinable.
You will need to add an additional SRV record in order to make sure your domain redirects your players to the desired port instead of the default one (25565).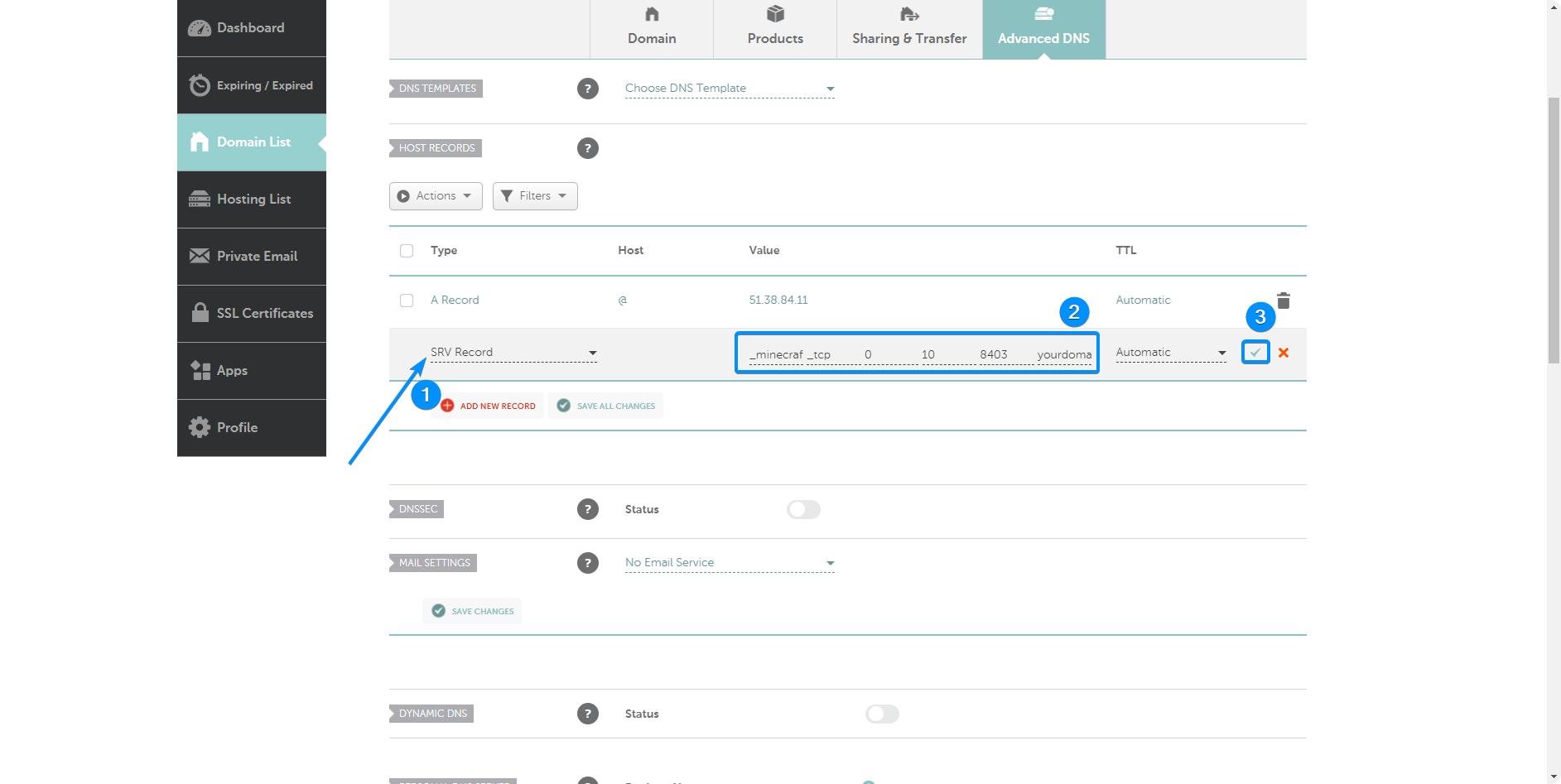 Service: This should be set to _minecraft.
Protocol: Set this to _tcp.mc.
Priority: Setting priority to 0 in order to give this the highest priority.
Weight: Set this to 5.
Port: This shall be set to your server's port, which can be found on our panel.
Target: The target parameter depends on your previous setup of the A Record. If you set the A Record to use a subdomain like play.yourdomain.com, then you will have to input the subdomain. If not, just inputting your main domain will work like a charm!
TTL: This option shall be left untouched or set to half an hour if your domain's registrar requires it.
IMPORTANT: You might have to wait around for up to 1 hour for the new DNS settings to be able to propagate.
Conclusion
That's all! You've just linked up your domain with your own Minecraft server.
In conclusion, connecting your domain with your Minecraft server is a crucial step in building your gaming brand and creating an immersive gaming experience. By using Namecheap and partnering with Rocketnode, you have the tools and guidance to easily connect your domain and unleash the full potential of your Minecraft server.